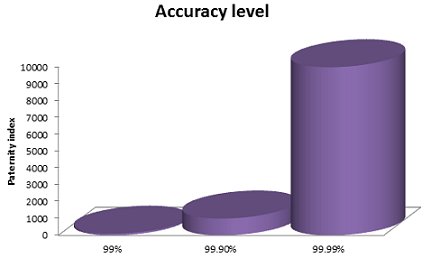 What makes the difference in the testing?
All DNA testing is not the same.
The industry standard for paternity testing is 15 DNA markers. This in some cases, such as, the mother is not included in the test, the father has common DNA, there is a mutation of the child's DNA, the father is from various backgrounds, this will not be enough testing to determine the father of a child accurately. This is usually the only test offered by the less expensive companies. If the customer wishes to have more testing done to get a accurate result, they will have to pay the laboratory to send the samples to a different laboratory, such as us, to do more testing.
Some laboratories in order to keep prices down only are testing 7 DNA markers. In our opinion, only testing 7 markers is highly unethical, as it will produce a much higher percentage of false results. In some cases, these tests will actually be less accurate than blood typing tests of the 1950's.
We have the ability to test 29 PCR, 8 Y chromosome, and 12 RFLP DNA markers. Giving us the ability to offer the most powerful test, with the highest guarantee on the market today. We will keep testing your samples, until we have met the terms of our guarantee, at and affordable price, and free of extra charges.